Didn't think you'd ever be called a scoundrel again, eh? Thought the nineteenth century was long gone? Wrongo!
The reason I am attacking you (the you who is probably nobody because this website got dropped faster than an unwanted pregnancy in a McDonald's lavatory) is because of this very fact: you hate We, Burning Giraffes. And that's fine. Becuase frankly i hate it to. I hate funny, sexy men, with nothing better to do than to yap yap yap away on the internet, flexing their intellectual and chastizing muscles, while we spout off about things that you philistines just couldn't possibly wrap your meaty heads around. Okay okay. This is not the case at all. I am up late writing a story about a guy who keeps cloning his ex-girlfriend and killing them. Wow, so original…yeah, i know it's not…but i dont care. I'm pretty tired of thinking and it would be dreamy to just kill off these miserable brain cells (making sure to keep the cells that are strictly dedicated to the careers of Don Johnson and Philip Micheal Thomas). But i can't. My brain is what keeps me pretty.
The thing is that i want to get back on the saddle. Throw on the ol' wrestling unitard and rob a liquor store. You get what I'm saying? Of coures you don't! Savages! You'd knife your own Grandmother and eat her body for a day's wages wouldn't you? If yes, then you are on par with me.
Challenge: Listen to the song "Sweet Sunshine" by Beck and tell me you don't want to hunt him down and like, totally unleash your homies to put their collective steel-toed boot up his ass.
Anyway, i guess you (still unsure of who this could possibly pertain to) would like some information that you could potentially care about after trudging through the ravings of a sleep-deprived skinny white boy?
Here's some shit you MUST listen to:
Zoe Keating - One Cello x 16 Natoma (Zoe Keating; 2005)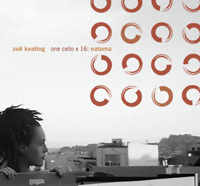 Half-decent looking hippie chick plays the most beautiful Cello music i have ever heard. It's just her on cello and a loop station with some minor effects. She does this shit live to and I can only imagine it would be orgasmic. This album's beauty is only outdone by its progressive and simplistic nature. The soundscapes are like, the hottest naked person you've ever had in your bed, times a thousand. It's that good. Check it out. (Oh, she used to be in Rasputina…but…just forget i told you that…)
Victor Bermon - Arriving At Night (Hefty!; 2007)
I just heard this album two days ago and I'm already hooked (thanks Jeremy). Think Mice Parade without Adam Pierce's spazzy drumming and Kria Brekken's fuck-me voice. It's a purely instrumental album with tones of xylophone, glockenshpeil (who cares how it's spelled?) strings and synth. It's another beautiful album and should NOT be overlooked. You can go to Hefty's website and sample a few of the tracks. At least do that much. Pretend to like it. Then buy the cd and listen to it. But seriously…I don't care what you do.
Hefty! Records: http://www.heftyrecords.com/hefty.php?in_artistid=
Genius/GZA - Liquid Sword (Geffen; 1995)
So one day i felt particularly white and thought (why don't i have individual albums from every member of the Wu-Tang Clan? Forty-eight hours later I was five albums richer, and my personal favorite was this album (the runners up being Ol' Dirty Bastard's "Return to the 36 Chambers: The Dirty Version" Inspectah Deck's "Controlled Substances", Method Man's "Tical", RZA's "Afro Samurai Score", and a close second place Ghostface Killah's "Iron Man").  All of those albums are worth checking out, but i found  the GZA to be  particularly underated (and plus it's damn fun saying his name.  Okay, okay, so i know what you're gonna say: "we love the sound of ninjas and samurai clanging swords and swearing revenge, but isn't that what Wu-Tang is for?" And i answer, yes, but who the fuck gets sick of samurai? Yes every Wu-Tang Clan member's side project sounds like they are trying to say 'Yes, I can make this music by myself too!' (eventhough most of the tracks have members of the Wu guest appearancing) but fuck it. It still sounds damn good. Lots of soul samples and really sick beats that tear the roof off twelve years after it exited Geffen's womb. And if you like good soul music, you have to check out this sick compilation called SHAOLIN SOUL, which is a two-discer, featuring all the soul tracks that the Wu has sampled throughout their mighty career. Ya dig? No? Okay…sorry.
I have to finish my story. Fuck all y'all. More to come? (comics, movies, books, records, ice cream flavors, sexual positions, brands of toothpaste)? IF anyone reads this…comment on it or let me know or something cause i have no idea who you are.